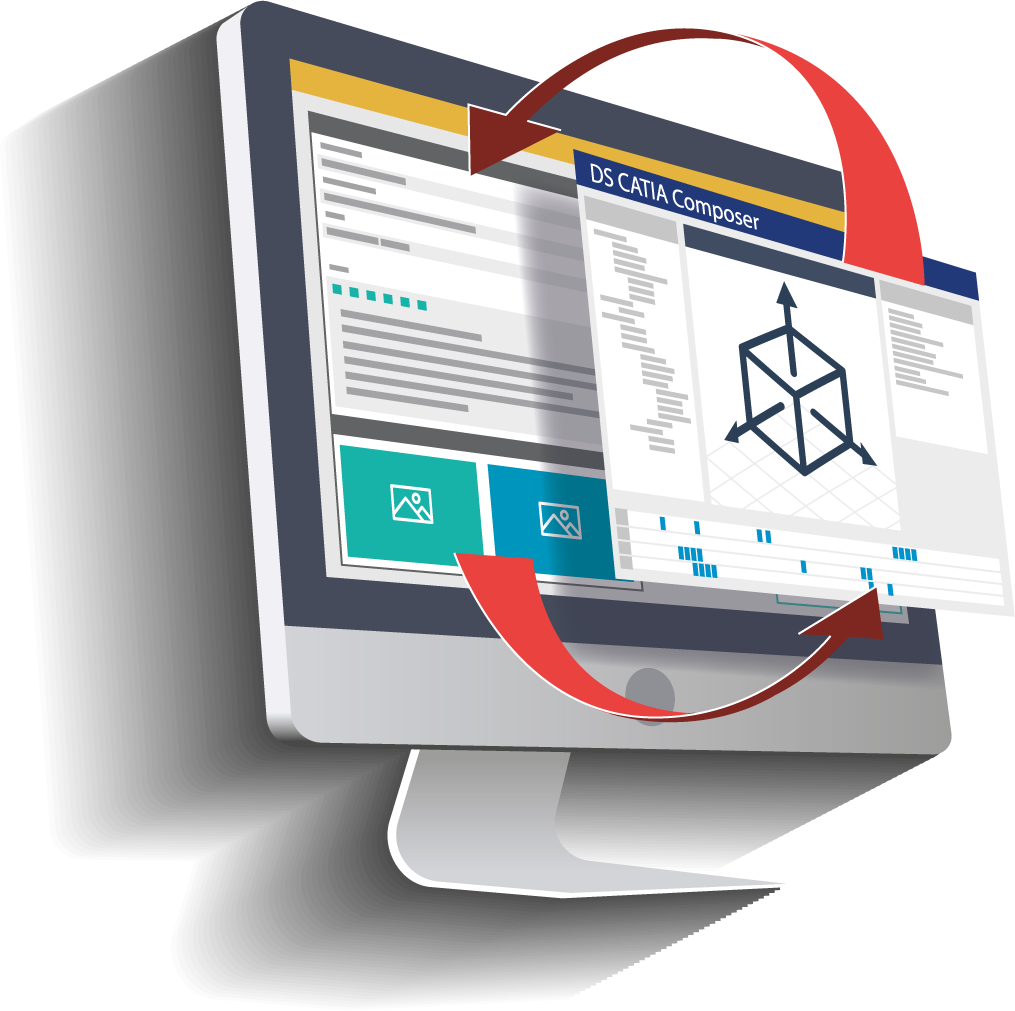 3D PLUGIN - YOUR XML EDITOR BUILT INTO CATIA COMPOSER
An interactive 3D connector between ADAM Author and CATIA Composer?
Originating from a strategic partnership between 4D Concept and Dassault Système, ADAM 3D Plugin is a documentary content creation module that generates S1000D procedures straight from the system's digital mock-up. 3D Plugin is a 3D connector between ADAM Author and CATIA Composer that brings the best out of both of these solutions.
Designed to enhance the CATIA experience by initiating assisted writing concepts, ADAM 3D Plugin creates text and graphic content (2D/3D) in real time for your technical documents (procedures, descriptions, catalogues). It ensures flawless homogeneity between the source data provided by the design office and top-quality 3D deliverables.
Discover a New Authoring Process
This new, innovative process allows users to save a considerable amount of time: they first need to focus on writing the 3D, which is then used to generate all or part of the procedure. This lowers the risk of error significantly, since the solution operates straight from the source data, effectively preserving the original edges created inside the shape editor and preventing a constant back-and-forth between systems. Generated directly from the digital mock-up, the illustrations offer complete reliability.
The writing process is reinvented: only one author is required to create documentation for a product where typical processes would normally involve multiple contributors (a planner, an author, a mock-up specialist and an illustrator). Instead, the STEP file contains all the CAD data necessary for the entire procedure.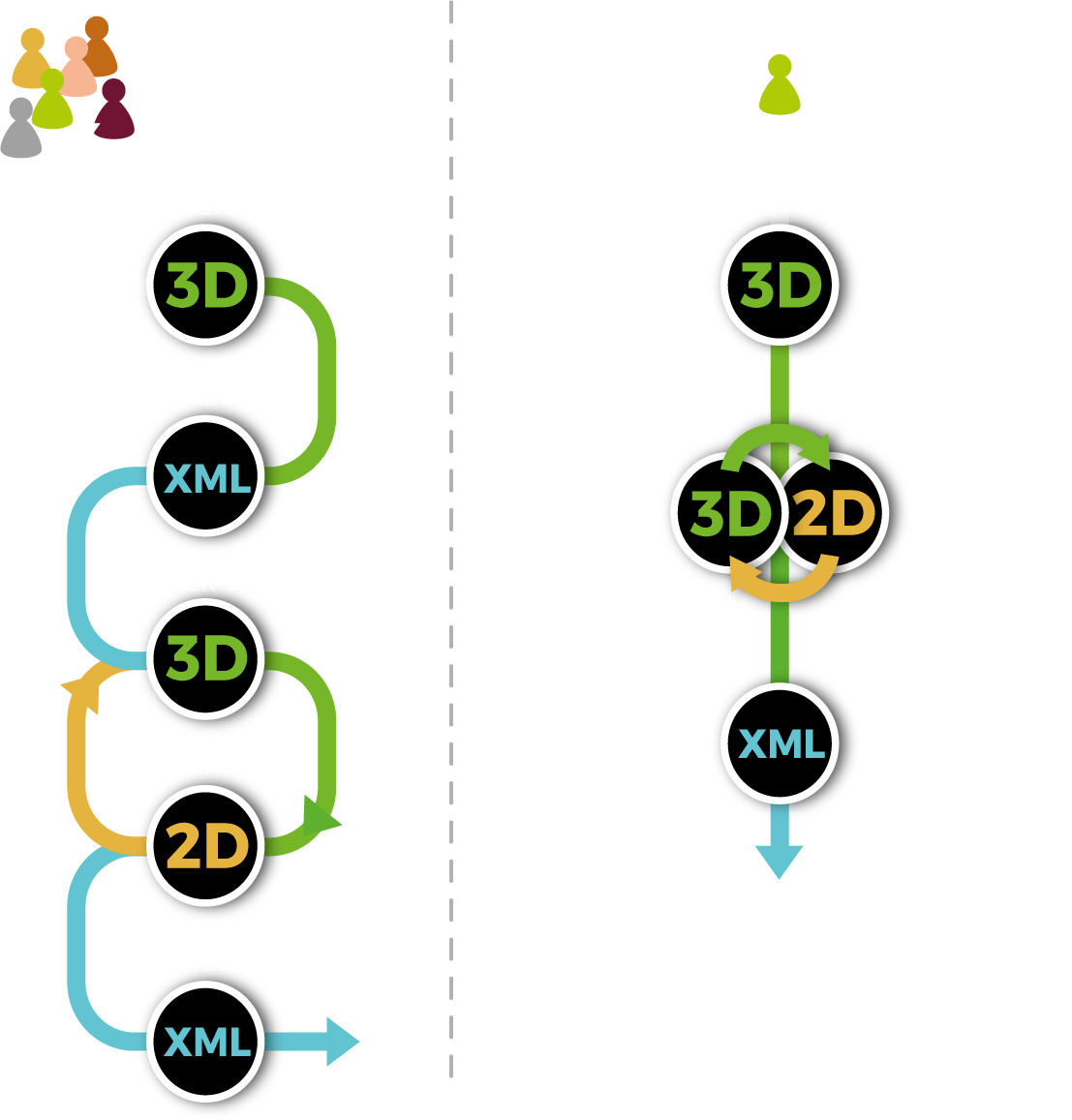 3D Plugin Highlights
THE 3D CONNECTOR OFFERS COMPELLING BENEFITS (evidenced by operational users):
Reducing production time
Improving quality
Bringing new services
Reducing validation cycles
TYPICAL PROCESS
Multiple contributors needed: planners, authors, mock-up specialists and illustrators.
1) Understand, analyze and collect data from a digital 3D mock-up essentially reverse engineering it
2) Write the XML procedure
3) Design the mock-up
4) Design 2D illustrations
5) Check illustrations and, if necessary, rework the mock-up
6) Integrate illustrations in the XML procedure
AUTHORING PROCESS USING A 3D CONNECTOR BETWEEN ADAM AUTHOR AND CATIA COMPOSER
Only one contributor is needed: the author.
1) Understand, analyze and collect data from a digital 3D mock-up
2) Generate 3D illustration and/or 2D
3) Generate automatically skeleton XML procedure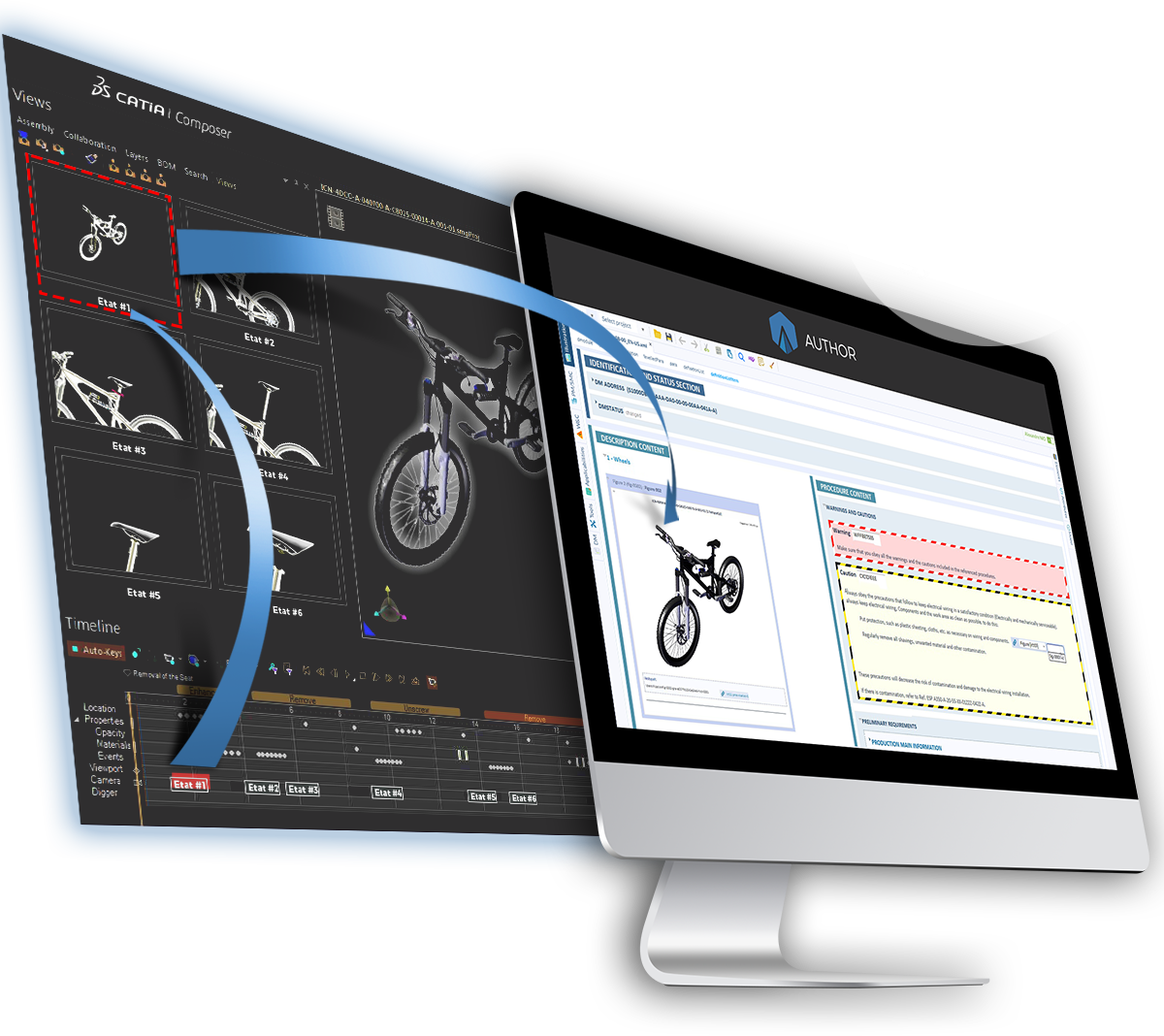 Main Features of the 3D Connector
Creation of 3D animation sequences using CATIA Composer's Animation Library workshop

Generation of the XML step automatically associated with each animation sequence in ADAM Author

Retrieve the name of the animated elements using metadata right from the CAD software CATIA Composer

Customise the authoring process based on your customers' business rules to streamline technical communication and optimise the product engineering process

Any tasks generated using ADAM Author can be made richer

Generate and integrate 2D illustrations right from ADAM Author

2D/3D links and texts are saved and can be used for both editing and viewing

A découvrir également...