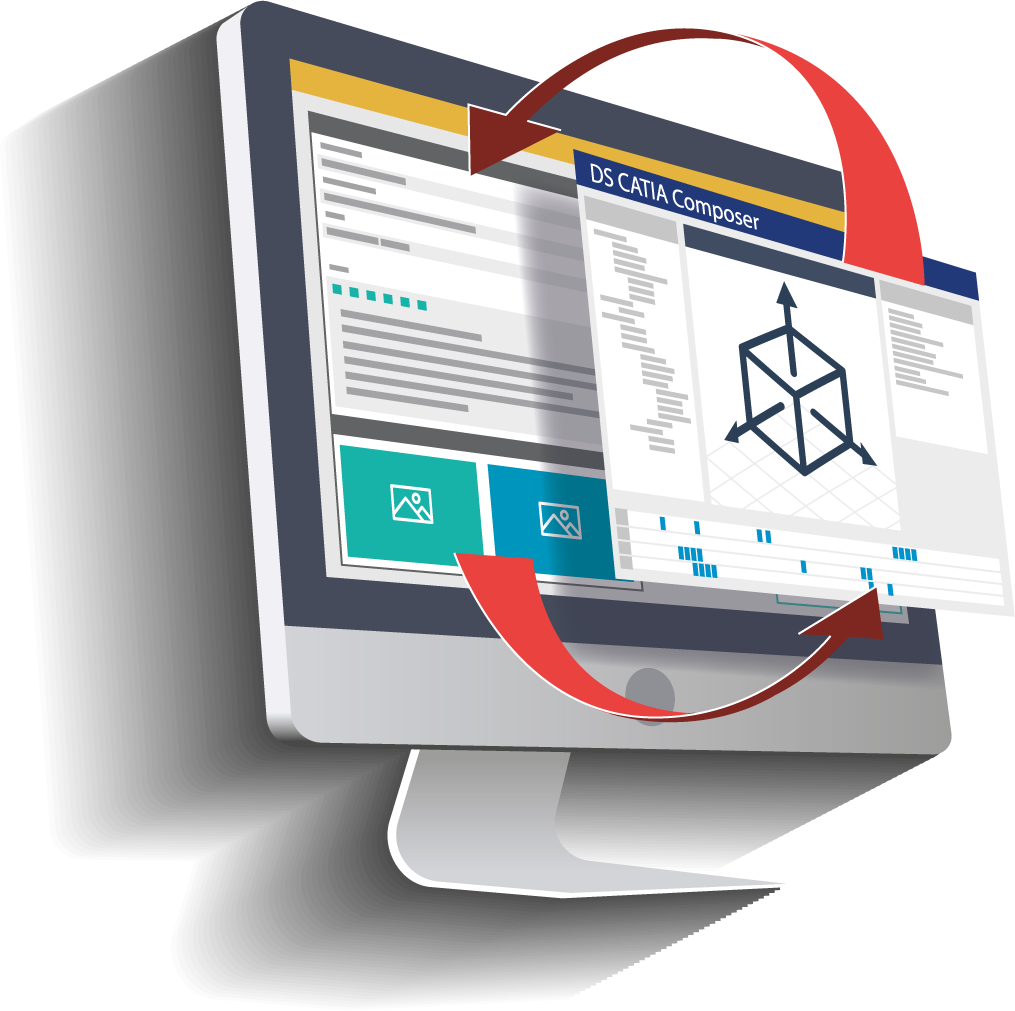 Built-in XML editor with CATIA Composer
An interactive 3D plugin between ADAM Author and CATIA Composer.
A module for creating documentary content has been developed thanks to the strategic partnership between 4D Concept and Dassault Systems, using 3D data from a digital mock-up. This plugin pairs solutions of ADAM Author and CATIA Composer.
It is used for the simultaneous authoring of text and graphical content (2D/3D) of technical documentation (procedures, descriptions, catalogs). This plugin between ADAM Author and CATIA Composer grants digital continuity between the source data from the Engineering & Design department and an excellent quality 3D deliverable.
A new way of authoring
This new innovative process saves time: authoring begins with 3D from which we generate all or part of the procedure. This reduces the risk of error by directly manipulating the source data and avoiding round trips from a system to another.
The authoring process has been reinvented: you only need one author when the current process requires most of the time several actors (a planner, an author, a layout artist and an illustrator).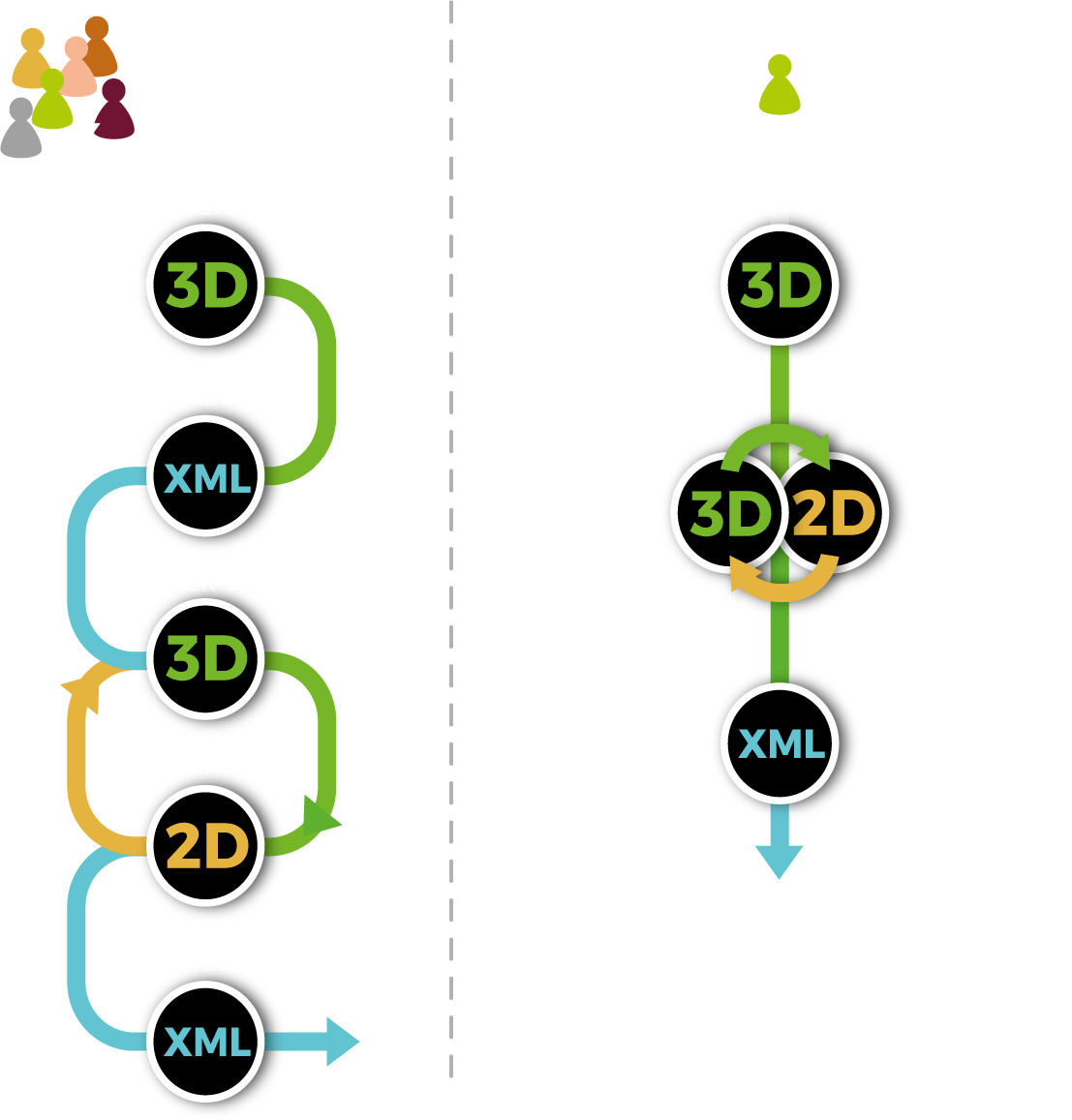 Strong points
3D PLUGIN BUSINESS BENEFITS (approuved by users in operational conditions) :
Reduce production time
Improve quality
Bring new services
Reduce validation cycles
TYPICAL PROCESS
Need more players: planners, authors, layout artists, illustrators.
1) Understand, analyze and collect data from a digital 3D mock-up
2) Write the XML procedure
3) Design the mock-up
4) Design 2D illustrations
5) Check illustrations and, if necessary, rework the mock-up
6) Integrate illustrations in the XML procedure
NEW PROCESS WITH 3D PLUGIN BETWEEN ADAM AUTHOR AND CATIA COMPOSER
Need just one player: an author.
1) Understand, analyze and collect data from a digital 3D mock-up
2) Generate 3D illustration and/or 2D
3) Generate automatically skeleton XML procedure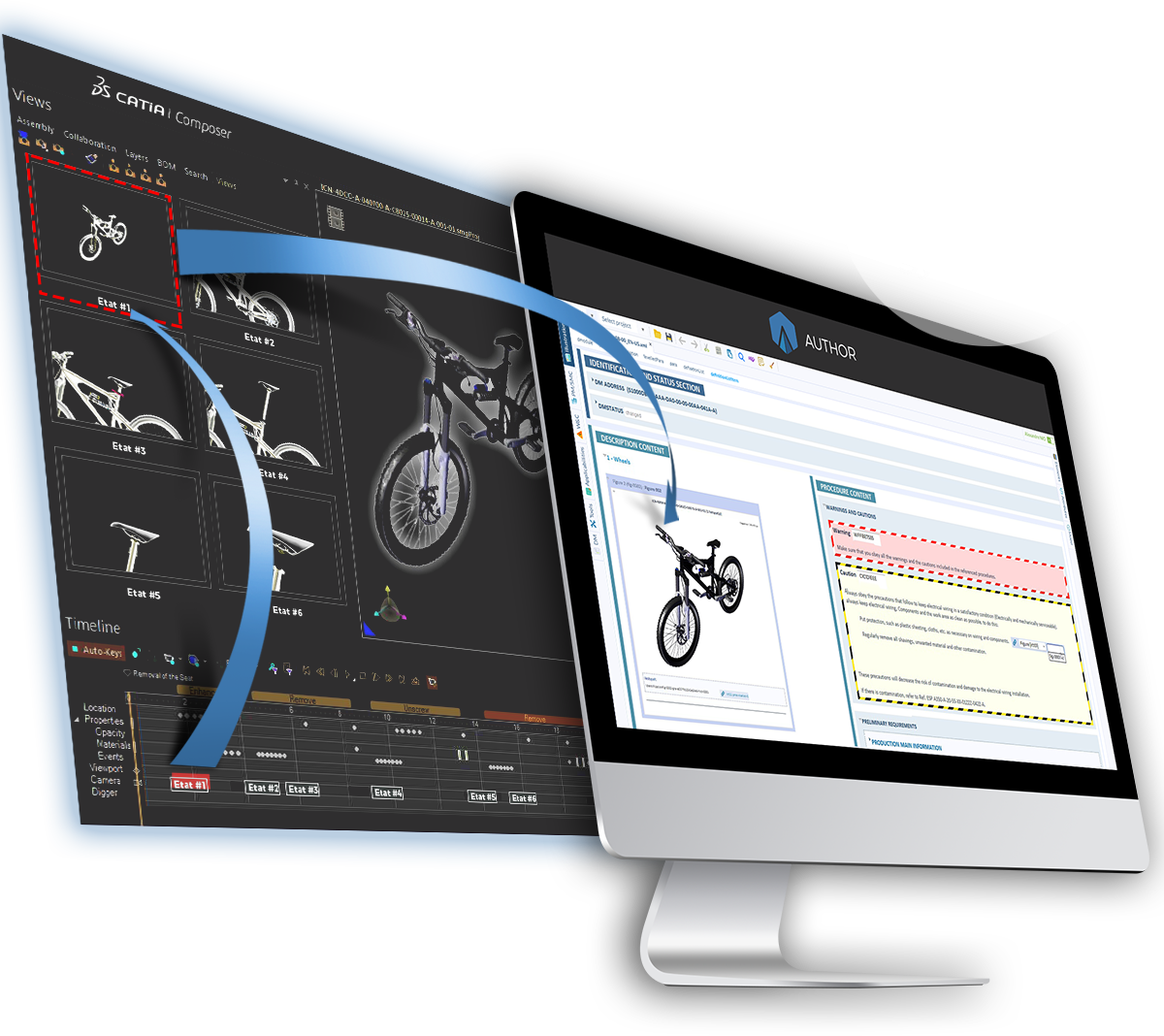 Main features
Creation of 3D animation sequences using CATIA Composer's Animation Library workshop

Generation of the XML step automatically associated with each animation sequence in ADAM Author

Automatic retrieval of the name of animated elements, using metadata, in CATIA Composer

Authoring customization according to the client business rules

Enriching the task generated in ADAM Author

2D illustration generation and immediate integration into ADAM Author

The links 2D / 3D – texts are preserved and exploitable as well in the edition as in the visualization

See also...